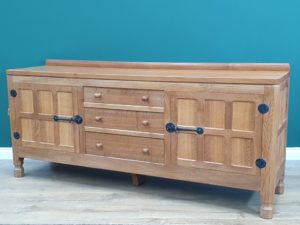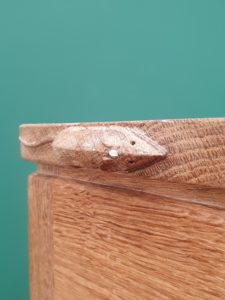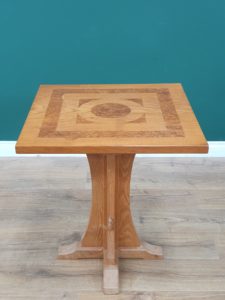 To be included in our 21st June Summer Fine Art Sale are four pieces of oak furniture from the workshops of Robert 'Mouseman' Thompson. Thompson was born in Kilburn in North Yorkshire in 1876 and worked with his father. Sadly his father died suddenly in 1895 and Robert was left to run the business, and he was keen to develop the furniture section rather than the more mundane barn repairs. In the 1920's he was carving a cornice for a large screen with a colleague, and it was suggested they were as poor as a church mouse, and with that he carved a mouse on his creation, and this became his lasting trademark, with a small mouse in relief carved on most subsequent pieces, and is still used in his workshops, nearly 70 years since he died.
The four pieces in the sale are typical of his work, made from fine quality seasoned oak with many pegged joints and a combination of gothic and medieval styles. The larger piece is 6ft sideboard with a finely adzed top above three drawers and pair of multi panelled and the traditional mouse trademark is carved on one of the legs. The sideboard carries a pre-sale estimate of £1-1500, probably on the cautious side, bearing in mind the current popularity of these craftsman made pieces.
Of the other items a centre table is enhanced with contrasting burr oak inlay and estimated at £8-1200, a corner cupboard with multi-panel door and complemented with quality black wrought iron hinges and latch carries an estimate of £5-800, while the remaining item is another oak corner cupboard, but with glazed leaded door, estimated £4-600.